CAR AUDIO & ALARMS - INSTALLATION - HOME THEATER SYSTEMS
Tel: 604-467-6644 | Fax: 604-467-6444 | Email:
info@diamondstereo.com
| Mon-Fri 9:30am - 6pm | Sat 9:30am - 5pm | Closed Sun & Holidays
Our team of professional installers and expert sales people are here to help you get the best out of your budget. We pride ourselves on honest sales and A1 installation practices resulting in you, the customer, getting a quality product and exceptional after sales service.

Whether it's for the Home, Car, Boat or Motorcycle, we will give you expert advice and options from our extensive product ranges and experience to give you the best possible outcome. Come in and see us. We are local and are waiting to meet you for the first time, or build on our great history with you.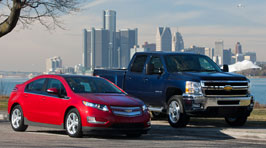 Vehicle Audio
Great sounds at affordable prices
Whether you are wanting an economical upgrade or a full competition installation, we have you covered for all you audio needs. Having a large selection of brands to choose from, we can advise you of the best product for your needs. Speakers, Stereos, Amplifiers & Subwoofers are just a few of the many options we can install for you in either an aftermarket system or OEM integration. Come in and see or range in person, try the products out in our shop demo area.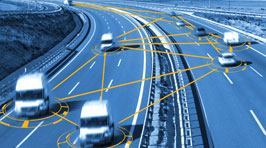 Vehicle Safety
Protect yourself and your vehicle
We stock and install car alarms, back up cameras, collision avoidance systems, dash cameras, LED lights and vehicle tracking to make your driving experience safer. Bring your vehicle up to the modern safety standards with our aftermarket product range and have a reliable eyewitness in the event of an accident with a dash camera.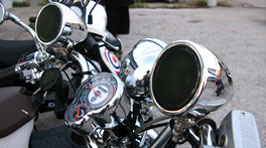 Motorcycle Audio
Music on the move
We do custom motorcycle audio. Our work includes custom dash and special handlebar speaker pods. We also provide micro amplifiers to produce maximum sound with minimal footprint while you are enjoying your ride. We carry Aquatic AV units with Bluetooth capability as a direct replacement / upgrade to your factory Harley system. Our popular brands include Rockford Fosgate & Hogtunes.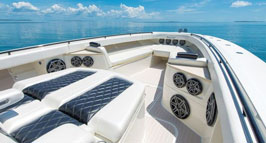 Marine Audio
We do it right the first time
We customize and install a variety of marine audio products. We have a wide selection of brands such as Kenwood, Wetsounds, and JL Audio that will suit whatever your watercraft. Products include waterproof radios, speakers, subwoofers and amplifiers. We also do LED Lighting for that additional wow factor on the water.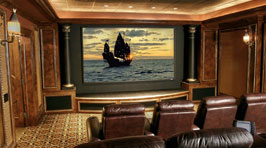 Home Audio
Quality sound in every room
We can bring your house to life with multi-room wireless systems, sound bars and in ceiling speakers. Stream from any device to any room or even outdoor. Looking for a turntable or that Cinema experience in your home, we have options for any size dwelling. Marantz and Denon paired with Focal speakers for a superb sound.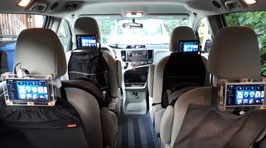 Vehicle Comfort
Add a bit of luxury to your ride
We can add a remote start to your vehicle for those winter mornings, heated seats for those leather seats. Add in-vehicle entertainment systems to keep the kids entertained on those long road trips. We have a solution for your need.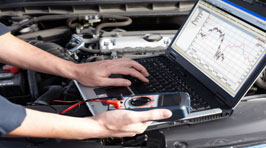 Diagnostics
Not running right?
We provide diagnostic services for your vehicle or home systems. Subwoofer not working? We can tell you why. Get in touch with us today to book your appointment.